B'luru developers continue to have best brand value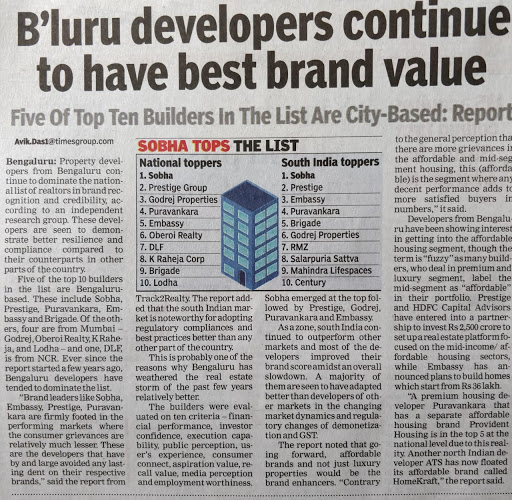 Five Of Top Ten Builders In The List Are City-Based: Report
Bengaluru:Property developers from Bengaluru continue to dominate the national list of realtors in brand recognition and credibility, according to an independent research group. These developers are seen to demonstrate better resilience and compliance compared to their counterparts in other parts of the country.
Five of the top 10 builders in the list are Bengalurubased. These include Sobha, Prestige, Puravankara, Embassy and Brigade. Of the others, four are from Mumbai – Godrej, Oberoi Realty, K Raheja, and Lodha – and one, DLF, is from NCR. Ever since the report started a few years ago, Bengaluru developers have tended to dominate the list.
"Brand leaders like Sobha, Embassy, Prestige, Puravankara are firmly footed in the performing markets where the consumer grievances are relatively much lesser. These are the developers that have by and large avoided any lasting dent on their respective brands," said the report from Track2Realty. The report added that the south Indian market is noteworthy for adopting regulatory compliances and best practices better than any other part of the country.
his is probably one of the reasons why Bengaluru has weathered the real estate storm of the past few years relatively better.
The builders were evaluated on ten criteria – financial performance, investor confidence, execution capability, public perception, user's experience, consumer connect, aspiration value, recall value, media perception and employment worthiness. Sobha emerged at the top followed by Prestige, Godrej, Puravankara and Embassy.
As a zone, south India continued to outperform other markets and most of the developers improved their brand score amidst an overall slowdown. A majority of them are seen to have adapted better than developers of other markets in the changing market dynamics and regulatory changes of demonetization and GST.
The report noted that going forward, affordable brands and not just luxury properties would be the brand enhancers. "Contrary to the general perception that there are more grievances in the affordable and mid-segment housing, this (affordable) is the segment where any decent performance adds to more satisfied buyers in numbers," it said.
Developers from Bengaluru have been showing interest in getting into the affordable housing segment, though the term is "fuzzy" as many builders, who deal in premium and luxury segment, label the mid-segment as "affordable" in their portfolio. Prestige and HDFC Capital Advisors have entered into a partnership to invest Rs 2,500 crore to set up a real estate platform focused on the mid-income/ affordable housing sectors, while Embassy has announced plans to build homes which start from Rs 36 lakh.
"A premium housing developer Puravankara that has a separate affordable housing brand Provident Housing is in the top 5 at the national level due to this reality. Another north Indian developer ATS has now floated its affordable brand called HomeKraft," the report said.