Rajendranagar to be city's next IT hub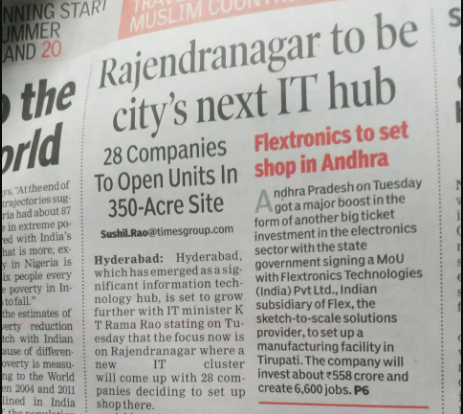 HYDERABAD: Hyderabad, which has emerged as a significant information technology hub, is set to grow further with IT minister K T Rama Rao stating on Tuesday that the focus now is on Rajendranagar where a new IT cluster will come up with 28 companies deciding to set up shop there.
Addressing a public meeting in Rajendranagar, KTR said there was a major constraint for land in places like Madhapur, Kondapur and Gopannapalli in Serilingampally mandal in Ranga Reddy district and therefore, Rajendranagar will host the next major IT cluster.
"In a few years, Rajendranagar will turn into another Serilingampally with the setting up of IT companies here," he said. The IT minister announced that 350 acres of land has been identified between Budwel and Kismatpur.