Will turn RGIA, into an airport city, promises KTR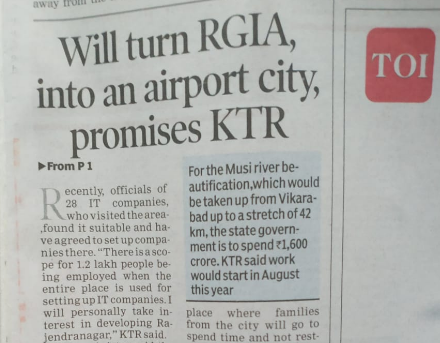 Recently, officials of 28 IT companies, who visited the area,found it suitable and have agreed to set up companies there. "There is a scope for 1.2 lakh people being employed when the entire place is used for setting up IT companies. I will personally take interest in developing Rajendranagar," KTR said.
The minister said the Rajiv Gandhi International Airport at Shamshabad will also be expanded as it has 5,000 acre of land. "It will be developed as an airport city," he said. A logistics park would also be established at Rajendranagar as there is a lot of traffic between Shamshabad and Bengaluru.
For the Musi river beautification,which would be taken up from Vikarabad up to a stretch of 42 km, the state government is to spend Rs 1,600 crore. The minister said work would start in August. Another Rs 100 crore will be spent on beautification of Gandipet lake by 2020. "It will be developed into a place where families from the city will go to spend time and not restrict themselves to malls and movies," he said. An amount of Rs 200 crore will be spent from the municipal administration department for taking up various developmental works in Rajendranagar. The minister inaugurated a bridge on Musi constructed at Kismatpur, a mini pond at Pattikunta and and a BT road from Mir Alam to Himayatsagar constructed at a cost of Rs 9.42 crore. Foundation stones were laid for Malkamcheruvu restoration at Hyderguda and construction of 'Period Preventive Maintenance' (PPM) roads at Indira Gandhi statue at a cost of Rs 16.31 crore.